Celebrity gardener Alys Fowler gives her support to the country's largest ever Big Dig
On Saturday 16th March, 270 gardens across 27 UK towns and cities are opening their gates to fledgling green-fingered enthusiasts.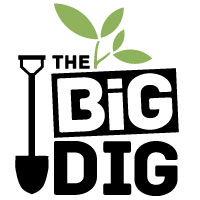 This will be the largest ever Big Dig community garden growing day, engaging thousands of people in volunteer-run food-growing projects.
Renowned gardener, Alys Fowler has been supporting Urban Veg, in Birmingham which is part of the Big Dig project. She believes the Big Dig Day offers a great introduction to gardening and says "If you fancy a go at gardening, but are a little unsure how to start, if you don't have any dirt of your own or you just want a fun day out meeting new people, now is the time to get involved with your local community growing project. The Big Dig wants to recruit as many volunteers as possible to get the nation growing, so on March 16th community gardens and growing spaces across the country will be opening their doors to welcome you in. So go along and find out for yourself and help make this the biggest ever community food growing day"
In the last year the number of cities involved has more than tripled and now includes community gardens across the country from Falkirk to Brighton and Taunton to Ipswich. Since the start of the project 3,800 people have volunteered at Big Dig sites and a further 600 people have volunteered who have never done any sort of volunteering activity before. Over 3,000 people have visited the gardens and 7,800 volunteering opportunities have been created; this year's Big Dig is expected to attract thousands more.
Interest in where our food comes from and how it is produced has long been on the news agenda, and more so in recent weeks. Clare Horrell from the Big Dig said: "The horsemeat scandal has highlighted many problems in our food chain. One of the best ways to know where you food comes from is to grow it yourself. With huge allotment waiting lists, for those who don't have a garden, getting involved in your local community growing space is a great way to get 'own-grown' produce."
Community gardens offer much more than skills and knowledge about food and where it comes from. They provide a social space for people to meet and get to know each other. Many communities have turned pieces of derelict land into places that everyone can enjoy while getting more connected to the food they eat.
Elspeth Broady, Lead Volunteer at the London Road Station Garden in Brighton said: "We set up a station partnership with Southern Railway to use a plot of waste land for community benefit. Local volunteers can grow tasty seasonal produce here and compost their kitchen waste. Neighbours often drop by to see what we're doing - it's a real community garden. Working with Brighton & Hove Food Partnership and being part of the Big Dig links us in to other local and national projects - there's a wonderful supportive network out there for community growing."
Nick Hurd, Minister for Civil Society said: ""It is fantastic that so many gardens are taking part in the Big Dig Day and it's great to see another successful project supported by our Social Action Fund. I hope that that the day acts as a real catalyst to show people the benefits of getting involved in their community".
ENDS
Case studies, interviews and images available on request. Details about the 27 locations and the gardens taking part can be found at http://www.bigdig.org.uk/ For more information please contact Clare Horrell or Seb Mayfield on 0203 5596 777 or clare@sustainweb.org or seb@sustainweb.org.
Editorial Notes
1. The Big Dig Day is a national community garden volunteering event taking place as part of the Big Dig project http://www.bigdig.org.uk/
The Big Dig is co-ordinated nationally by Sustain: the alliance for better food and farming which advocates food and agriculture policies and practices that enhance the health and welfare of people and animals, improve the working and living environment, enrich society and culture and promote equity. Sustain represents around 100 national public interest organisations working at international, national, regional and local level. https://www.sustainweb.org/
The Big Dig is a nationwide project which aims to engage over 10,000 people in community food-growing projects across England. The following organisations are leading The Big Dig in towns and cities around the UK:
Bath – Transition Bath
Birmingham - Representatives of six food growing initiatives are currently leading the group. More information about the group can be found through Growing Birmingham
Blackpool – Grow Blackpool
Bournemouth and Poole - Ruralworks
Bradford – Bradford City Council and Bradford Community Environment Project
Brighton & Hove – Brighton & Hove Food Partnership
Bristol – Sims Hill Shared Harvest
Chippenham&Swindon – Wiltshire Wildlife Trust
Congleton – Congleton Sustainability Group
Coventry – Garden Organic
Falkirk – Friends of the Earth
Hastings & St Leonards – Moveable Feast, Bohemia Walled Garden and The Bridge
Ipswich –ActivGardens
Liverpool – National Wildlife Centre
London – Capital Growth
Manchester – The Kindling Trust
Middlesbrough – Middlesbrough Environment City
Newcastle – Food Nation
Nottingham - Nottingham City Council Parks and Open Spaces Services
Oxford – Community Action Groups Project
Sheffield – Grow Sheffield
Southampton - Catch 22
Southend on Sea – Trust Links
Totnes- Totnes Development Trust, Transition Town Totnes and Landmatters
Taunton –Taunton Transition Town
Walsall – Walsall Council
The Federation of City Farms and Community Gardens is also a partner in the project and is providing advice to community groups on land issues as well as organising training sessions.
The Big Dig is funded by the Social Action Fund and is managed by The Social Investment Business, on behalf of the Cabinet Office. The Fund supports social action projects in England from civil society organisations, public sector bodies and businesses with a track record of running social action programmes. The Social Action Fund is part of a broader programme of support for social action that was announced in the Giving White Paper and takes its place alongside two other sources of funding - Innovation in Giving Fund and Challenge Prizes.
The Big Dig is supported by Compost Direct who are providing in-kind support and prizes for each of the cities. Seeds are also being provided by Unwins Organics and the Heritage Seed Library.
Follow The Big Dig on twitter @thebigdiguk, or visit our website www.bigdig.org.uk
---
05/03/2013
---