Your Planet Doctors: Community growing for health and wellbeing
Your Planet Doctors CIC has been working hard since 2021 to address worsening mental health and food insecurity by connecting communities with opportunities to grow food.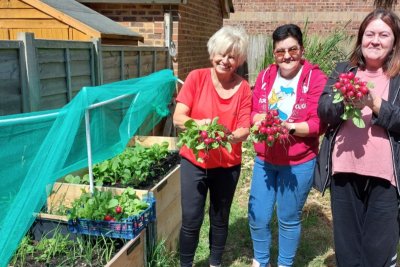 Community growers with their radish harvest. Credit: Your Planet Doctors
Your Planet Doctors CIC was established in January 2021 by Anne Hayden, a GP from Dorset who has specialised in mental health for 30 years. She was moved to do this because of recent deterioration in mental health, worsening food insecurity, and the knowledge that growing food in small groups can improve mental and physical wellbeing.
Anne says, "It is well documented that mental wellbeing of an individual is key to quality of life. Good mental health will boost the immune system, reducing the impact of physical illness and often preventing it completely. It raises one's self esteem, confidence and self belief which in turn helps us to accept and better care for others. It restores energy levels and the motivation to want to make a difference. It is essential for community cohesion."
The mission of Your Planet Doctors is to address food insecurity and poor mental health by:
supporting families' and individuals' well-being,
educating communities on the value of cooperation,
and encouraging neighbours to grow food together.
Their values are based around sustainability, food sufficiency, resilience, and the respect and comradeship needed to create community cohesion.
Your Planet Doctors started by working with Housing Association residents on a project called 'Grow Your Own Rainbow Gardens', with the aim to improve their access to healthy food by encouraging them to grow their own fruit and vegetables in back gardens and the local community growing space. This year, they hired a specialist gardener to provide weekly workshops and one-to-one support.
2022 has also seen Your Planet Doctors expand their work to more families, local schools and nurseries, and a community centre, with support from the church and local GPs. Their connection to the local GP surgery has enabled them to work with those who are unwell, physically and mentally, lonely and vulnerable. Their work with schools, which sees the garden become an outdoor classroom in the day and includes growing clubs for kids and parents after school, is experiencing ever-growing demand.
Anne adds, "In addition, we are helping all of those involved, to become more aware of the climate and environment crisis, learning how reduce carbon emissions, save water, process waste, but wherever possible prevent waste and improve biodiversity."
Find out more on their website.
---
05/07/2022
Share
Get updates