Good to Grow Day 2022
Sign-ups for our 2022 Good to Grow weekend of action, Friday 22nd - Monday 25th April, are now open!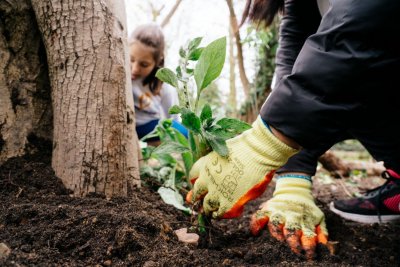 Volunteers at a community farm. Credit: Hands on London
We are pleased to announce that registration is open for our annual Good to Grow Day. This year it will run from the 22nd to the 25th of April.
Good to Grow Day celebrates the new growing season, and is a chance for volunteers and community members to help out in their local garden, while supporting and enjoying all of the valuable community spaces around the UK. It's also a great way to get the garden ready for the growing season.
If you're linked to a garden or growing space, you can register the space for free on the Good to Grow website. You'll get access to helpful resources for promoting your garden and for hosting activities, and will even be able to track your garden's activity through our useful Harvest-ometer!
You'll also be able to mark your garden as open to volunteers on Good to Grow's garden map. This makes it easy for volunteers in your local area to come and help out on Good to Grow Day and throughout the year.
Find out more about Good to Grow Day and register here!
Join our webinar
To officially launch #GoodtoGrow2022, Capital Growth will be hosting a webinar with Good to Grow and Sustain on Tuesday 15th March, 10-11:30am. We'll be looking at agroecological practices being put to use in urban growing spaces.
We'll hear from urban community gardens themselves, as well as speakers including Vicki Hird, author of Rebugging the Planet, Beth Nicholls from the University of Sussex, and Chiara Tornaghi from the Centre for Agroecology, Water and Resilience.
Chiara Tornaghi says: "We can't simply bring agroecology into the city, without radically changing the way cities work: to build an urban agroecology, we need an agroecological urbanism."
Tickets are limited so register for free now!
---
06/03/2022
Share
Get updates